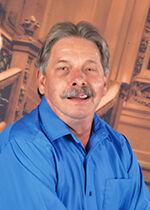 Walter W. Jackson, 59, native and lifelong resident of Crossett, died Monday, Nov. 29, 2021 at Ashley County Medical Center. He was a 1980 graduate of Crossett High School. He worked as a supervisor at Ideal Tru-Value Lumber Yard for many years and was a member of Cloverdale Assembly of God Church.
He was preceded in death by his parents, William "Sonny" and Ellen Jones Jackson, and one sister, Deborah Kay Slaughter.
He is survived by his wife, Darlene Jackson of Crossett; two daughters, Jennifer Jackson of Fayetteville and Cheyenne White of Crossett; two sisters, Janice Evans and husband, Mike, of Houston, Texas, and Carolyn Reeves and husband, Charles, of Pineville, La.; three brothers, William Jackson and wife, Deanie, of Hamburg, Robert Jackson and wife, Shardelle, of Alvin, Texas, and James Jackson of Houston, Texas; one brother-in-law, Bob Lawson of Houston; and two granddaughters.
Funeral services were held at 2 p.m. Thursday, Dec. 2 at Cloverdale Assembly of God Church with Bro. David Williams and Bro. D.J. Bussell officiating. Burial was in Carlock Cemetery. 
Pallbearers were Waylon Jackson, Donald Atchley, Doug Webb, Greg Donald, David Weatherly, and Steve Mann.
Honorary pallbearers were Daniel Cotton and Steven Edwards. Funeral arrangements were under the direction of Jones-Hartshorn Funeral Home.