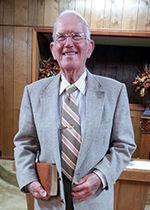 Vernon Joseph Clifton, 96, of Wilmot, died Thursday, Dec. 10, 2020 in Lake Village. He was a native of Delaplaine and a resident of Wilmot for the past 63 years. He was a veteran of the United States Navy, having served during World War II.
He was a cotton, soybean, and rice farmer and a member of Wilmot Church of Christ. He was a former mayor of Wilmot, a former board member of Farmer's Home Administration, and retired from Wilmot Fire Department.
He was preceded in death by his wife of 60 years, L.V. Metheny Clifton; his parents, John and Velora Vines Clifton; one brother, John Earl Clifton; and one sister, Alma Clifton Davis.
He is survived by four children, Dawna Whitehead of Wilmot, Darrell Clifton and wife, Janet, of Wilmot, Bonita Herrington and husband, Mike, of Mountain View, and Clifford Clifton of Wilmot; one sister, Clara Clifton Lovelady of Beech Grove; seven grandchildren; and 12 great-grandchildren.
Graveside services were held at 2 p.m. Saturday, Dec. 12 in Wilmot Cemetery with Bro. Carlos Pitts officiating.
Honorary pallbearers were Dennis Gregory, Jeff Clifton, Nolan Whitehead, Richard Clifton, George Utnage, Cayce Stock, Richard Stock, James Crossley, and Jackson Currie.
Memorials may be sent to Wilmot Cemetery Association, PO Box 160, Wilmot, AR 71676. 
Funeral arrangements were under the direction of Jones-Hartshorn Funeral Home.