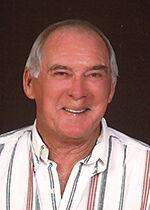 Ronnie Pennington, 79, native and lifelong resident of Fountain Hill, died Friday, Jan. 14, 2022, at Drew Memorial Hospital. He was a 1960 graduate of Fountain Hill High School and a veteran of the United States Army Reserve from 1964 until 1970, having served during the Vietnam Era. 
He worked as a brick mason contractor for over 45 years and was a cattle farmer. He was a co-founder and past president, from 1987 until 2000, of Fountain Creek Hunting Club; a former chairperson of Zion Cemetery Trust Fund; and a former Fountain Hill Frontier Days committee member. He was a longtime member of Zion United Methodist Church.
He was preceded in death by his parents, Proctor and Thelma Wallis Pennington, and three brothers, Rodney "Ricochet" Pennington, Tommy Pennington, and Justin "Red" Pennington.
He is survived by his wife of 57 years, Karen Bridges Pennington of Fountain Hill; one daughter, Sundi Denise Pennington Crum and husband, Randy, of Fountain Hill; one sister, Diane Kinney of Fountain Hill; one sister-in-law, Shirley Hennington Pennington of Hamburg; two grandsons; and one great-granddaughter.
Graveside services were held at 2 p.m. Monday, Jan. 17 in Zion Cemetery with Bro. Jimmy Faulk and Bro. Jim Bailey officiating.
Pallbearers were Rusty Crum, Tony Craig, Tim Abney, Mark Williams, Andy Riels, Mark Pennington, Thomas Halley, and Stan Craig.
Honorary pallbearers were Curtis Crum, Jerry Stanley, Larry Stanley, Scott Strickland, Jimmy Boykin, Dean Hill, Bill Hester, Buddy Barnes, Billy Morton, Brad Barfield, Dennis Cole, Scott Reynolds, and Jeff Pennington.
Memorials may be sent to Zion Cemetery Association, c/o Rita Pogue, 211 Ashley Road 467, Hamburg, AR  71646. 
Funeral arrangements were under the direction of Jones-Hartshorn Funeral Home.