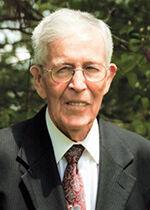 Rev. Eugene Howie, 92, of Hamburg, died Friday, Dec. 11, 2020, at his residence. He was a native of Portland, a resident of Hamburg for the past 20 years, and a former resident of Crossett and Patoka, Ill. 
He graduated in 1946 from Portland High School, where he played football. 
He was a veteran of the United States Navy, having served in the Korean Conflict on the USS Ozbourn. 
He worked for the Colonial Bread Company before he surrendered to preach. He was a member of Gardner Baptist Church and a Southern Baptist pastor for 57 years, having pastored churches in Arkansas and Illinois. He had preached in every church in Ashley County Baptist Association.
He was preceded in death by his first wife, Mary Margaret Hughes Howie; his parents, Clarence and Sally Hill Howie; five brothers, Mansel Howie, Clifton Howie, Burin Howie, Jimmy Howie, and Bob Howie; and one sister, Nadine Howie Lansdowne.
He is survived by his wife of 20 years, Don Dena Jackson Woods Howie of Hamburg; one son, David Howie and wife, Judy of Liberty, Mo.; one step-daughter, Anne Carpenter and husband, Bruce, of Crossett; two step-sons, Lamar Woods of Hamburg and Tommy Woods and wife, Karen, of San Antonio, Texas; eight grandchildren; and eight great-grandchildren.
Graveside services were scheduled for 2 p.m. Tuesday, Dec. 15 in Pinewood Memorial Park with Bro. Mike Chain officiating. 
Honorary pallbearers are Dennis Byrd, Earl McCrory, Robert Withers, and James McDonald. 
Memorials may be sent to Gardner Baptist Church, PO Box 311, Hamburg, AR 71646. 
There will be a memorial service held at a later date when the pandemic restrictions are lifted. 
Funeral arrangements are under the direction of Jones-Hartshorn Funeral Home.