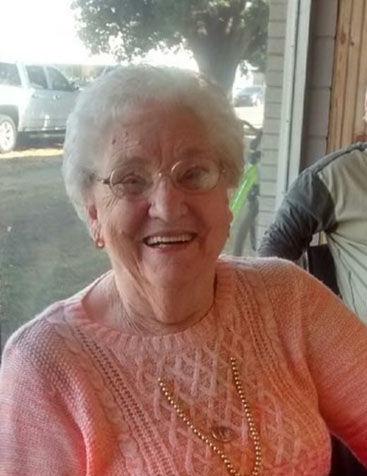 Norma Ione Clark, age 90, of Crossett, AR, passed away at her home on Friday, July 6, 2018. She was a member of Wallers Chapel United Methodist Church. She faithfully studied her bible and devotional every morning. Ione was known for her homemade biscuits and jelly. She enjoyed quilting and word search puzzles. She is preceded in death by her parents, John Erwin Carter and Syleathye Annie Walser Carter; her husband, Luther "Luke" Clark; two brothers, Johnnie Frank and Billy Nute Carter and one sister, Paulene Murphy.
Ione Clark is survived by one daughter, Lea Ann (Colvin) Shivers; two grandchildren, Whitney Gill (Chris) and Courtney Ferebee (Parker); five great grandchildren, Bryson, Alissa, Cole, Cooper and Landry Cate; one Goddaughter, Kristy Dodge; two sisters in law, Jessie Carter and Margaret Tonore; her granddog, "Bear" and his daily visits for a treat; the cows in the field, and a host of nieces, nephews, friends and loved ones.
Funeral services were 2:00PM on Sunday, July 8, 2018 at Wallers Chapel United Methodist Church in Crossett, AR with Rev. Toby Austin and Rev. Brad Elrod officiating. Pallbearers are Steven Carter, Jonathan Moss, Mike Avery, Ricky Babb, Chris Gill, Parker Ferebee, Anthony Adcock, Bobby Jenkins, Robert Jenkins and Ronnie Tonore. Honorary pallbearers are Josh Babb, Billy B. Carter, Jason Carter, Perry Clark, Ray Dodge, Brian Druckenmiller, Bryson Gill, Cole Gill, Garrett Harrington, Logan Harrington, Dr. Andy Gresham, David Hanson, Stephen Hanson, Jerry Jeffers, Kenny Jenkins, Kaleb Martinie, Dale Martinie, Roger Rasico, Roger Reves, Dennis Rickman, JT Towers, Ty Towers and the men of Wallers Chapel United Methodist Church. Interment is in Crossroads Cemetery. Visitation was Saturday, July 7thfrom 6:00PM until 8:00PM at Wallers Chapel Methodist Church.
Nancy Anne Baker Thompson
Nancy Ann Baker Thompson, 81, of Lake Village and formerly of Hamburg, died on July 1, 2018, surrounded by family and friends. She was born on January 3, 1937, in Pine Bluff.
She was preceded in death by her parents, Cecil and Ethel Brown, and brother, Ricky Brown.
She is survived by her husband, Marshall Fred Thompson of Lake Village; sister Joyce Lynn Baker of Lake Village; children, Vicki Dougan of Sarasota, Arkansas, Cindy Knight of Hamburg, Donna Anderson and husband, Ronnie of Paron, Arkansas, Lisa Brown and husband, Bruce of Monticello, Jimmy Clay Knight and wife, Beth of Sheridan, Arkansas, Debbie Sharp and husband, Bruce of Crossett, and Shelly Diestel and husband, Jim of Fort Worth, Texas; twenty-six grandchildren; and eighteen great- grandchildren.
A Celebration of life was held at 11 a.m. on Saturday, July 7 at the Crossroads Cemetery in the Crossroads community in Crossett. Immediately following the service, family and friends gathered at the old home place in Pine Hill, 2795 Hwy 133 North, Hamburg.
In lieu of flowers, family request donations be made to the Southeast Rehab Hospital, 905 Borgognoni Drive, Lake Village, AR 71653.