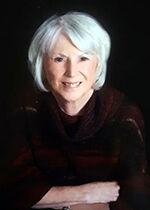 Harriet Stockley Barnett, 81, of Greenville, S.C., formerly of Crossett, died Thursday, Oct. 29, 2020. She was born Oct. 16, 1939, in Memphis, Tenn. She graduated from Mariana High School in 1957 and attend Memphis State University where she received a bachelor of arts degree in music education along with a master of art in music. 
She taught elementary school in Gary, Ind.; Memphis; Puerto Rico; Mechanicsburg, Penn.; and Hot Springs before teaching special education for 10 years in Crossett. She was later a homemaker and church pianist, playing both the piano and the organ for St. Mark's Episcopal Church of Crossett and First United Methodist Church of Crossett. 
She was a member of Daughters of the American Revolution, Crossett Book Club, Blue Stockings Book Club, and Christ Episcopal Church of Greenville.
She was preceded in death by her husband, Billy Barnett, and her parents, Temple and Jake Stockley.
She is survived by one son, James Bradley Davis and wife, Lonni Welch Davis; one daughter, Elizabeth Temple Langston husband, Tim Langston; one sister, Sally Stockley Johnson; one brother, Griffin Jasper Stockley; and four stepchildren.
Graveside services are 2 p.m. Saturday, Nov. 21 in Pinewood Memorial Park with Gene Crawford officiating. Memorials may be made to St. Jude Children's Research Hospital, 501 St. Jude Place, Memphis, TN 38101 or GHS Hospice of the Foothills, 390 Keowee School Road, Seneca, SC 29672. 
Funeral arrangements are under the direction of Jones-Hartshorn Funeral Home.
Clara Frances Coleman, 83, of Crossett, died Sunday, Nov. 8, 2020, surrounded by her family.  She was born Jan. 13, 1937, in Oak Grove, La., and was a 1954 graduate of Hamburg High School.
For 25 years, she worked as a service representative for Alltel Telephone Company in Crossett until her retirement in 1992.  She also worked many years at the Hamburg Shirt Factory and West's Department Store.
She was a member of Pine Forest Missionary Baptist Church.
She was preceded in death by her parents, Lonnie and Verd Smith; and five siblings, Ruth McKoin, Lucille Cooper, Mildred Smith, Lloyd Smith and Wyatt Smith.
She is survived by her husband of 63 years, William Coleman of Crossett; one daughter, Shelia Courson, and husband, Steve, of Crossett; two granddaughters; and four great-grandchildren.
A celebration of life service was held at 2 p.m. Tuesday, Nov. 10 at the Medders Funeral Home chapel with Bro. Roy Grantham officiating and followed by burial in Crossroads Cemetery under the direction of Medders Funeral Home.
Pallbearers were Gerald Lauhon, Joe Eubanks, Jimmy Carpenter, Danny Courson, John Lewis, Shane Smith, and Danny Smith. 
Honorary pallbearers were Burl Wesley Toler, Merchel Carpenter, Charles Goodwin, Leo Wright, Robert Freeman, Johnny William Pierce, and Dennis Banks.
In lieu of flowers, memorials may be sent to Pine Forest Missionary Baptist Church, 120 Church St., Crossett, AR 71635.
Christine "Chris" Rachel, 87, of Crossett died Tuesday, Nov. 10, 2020, at South Arkansas Medical Center in El Dorado. She was born Feb. 26, 1933 and was a member of Grace Christian Fellowship for over 50 years. She worked for Alltel as a telephone operator for 10 years and for several years cooked for the Angels About Tea Room.
She was preceded in death by her parents, Jimmy and Dora Burnett Sims; and her husband, Ray Rachel.
She is survived by one daughter, Rhonda Hoover (Kevin) of Monticello; one brother, James Earl Sims (Frances) of Bastrop, La.; three grandchildren; three great-grandchildren; and one great-great-grandchild.
A graveside service was held at 2 p.m. Friday, Nov. 13 in Bonita Road Baptist Church Cemetery in Bastrop with Bro. Jeremy Mills officiating and under the direction of Medders Funeral Home.
Pallbearers were Kevin Hoover, Jacob Hoover, Derek Beatty, Matt Brooks, Damon Dean, and Josh Hartley.